Golden Luster
We a hand paint a premium 22k gold luster which is carefully fired on in a 3rd and final firing. The breathtaking shimmer is one that can only be found with real gold. It is a pure visual delight! 
Shop Statement Studs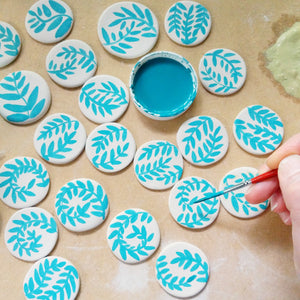 Small Batch Porcelain Jewelry
All our porcelain clay is produced in the mountains of North Carolina. We design and hand craft each piece with care and attention to detail.  Lightweight, strong and easy to dress in bright colors, porcelain has been used for thousands of years for decoration and adornment. 
Shop Laurel Pendants